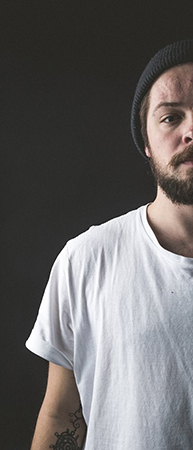 Name: Manuel Peric
Home: Vienna
Age: 29
Passion: Skateboarding, Analog/Digital Photography, Cinematography, Climbing, Nature.
|SocialNetworks  : Me | Facebook // Me | Tumblr // Me | Instagram  
Ahoi hoi, my name is Mani, i was born & raised in Schladming,Styria in the year '85. Since day one, I always knew that I don't want to work in an ordinary office, living my daily routine.I'm an analog/digital visual artist. I studied 'Timebased & Interactive Media' at the University of Arts and Industrial Design in Linz & after my degree I moved to Vienna.
I always try to escape from the madness and it happens that I spend most of my spare time in the Austrian Alps. When I can´t stand the heat in the valley any longer, I find my peace on the mountain peaks.
-m